Adopt a Bullmastiff near you in Mooresville, Indiana
We don't see any Bullmastiffs available for adoption right now, but new adoptable pets are added every day. Try a different search below!
Or, how about these Bullmastiffs in cities near Mooresville, Indiana
These Bullmastiffs are available for adoption close to Mooresville, Indiana.
These pups are in Mooresville, Indiana too!
Below are our newest added Bullmastiffs available for adoption in Mooresville, Indiana. To see more adoptable Bullmastiffs in Mooresville, Indiana, use the search tool below to enter specific criteria!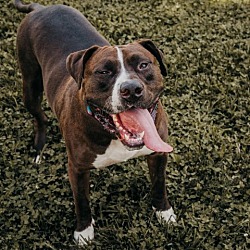 Neegan
Mastiff Rottweiler
Size
(when grown) Large 61-100 lbs (28-45 kg)
Details
-
Story
My name is Neegan and I am 3 years old. A couple years ago I was lost and walking around on 86th street until a nice lady brought me in. After that I went to a new home but me and the other dog just couldn't agree on everything so I came back to the ranch. Now I'm looking for a new home. I would do good with other dogs but I also would do great all by myself. house trained and good in crate loves his toys. Does not like to share them. been with other dogs great with kids great in car 100 lb lap dog that loves cuddles he will steal your heart (and your bed) Likes taking walks https://www.shelterluv.com/matchme/adopt/FLR-A-291
Use the search tool below to browse adoptable Bullmastiff puppies and adults Bullmastiff in Mooresville, Indiana.
There are animal shelters and rescues that focus specifically on finding great homes for Bullmastiff puppies in Mooresville, Indiana. Browse these Bullmastiff rescues and shelters below.
We've got all the info you need on adopting and caring for a Bullmastiff puppy. Check out the links below for everything you ever wanted to know about Bullmastiff puppies and adults.