Adopt a Burmese near you in Gaithersburg, Maryland
We don't see any Burmeses available for adoption right now, but new adoptable pets are added every day. Try a different search below!
Or, how about these Burmeses in cities near Gaithersburg, Maryland
These Burmeses are available for adoption close to Gaithersburg, Maryland.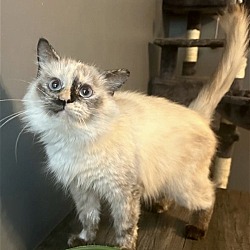 Size
(when grown) -
Details
Good with kids
,
Good with dogs
,
Good with cats
,
Spayed or Neutered
,
Story
You can fill out an adoption application online on our official website.Tank is an 8-month-old beauty. She loves being loved on and has a very sweet soul. She loves to head butt your hand to ask for pets. Her favorite toy is a stuffed cat nip banana. She would be a great addition to any home. Visit this organization's web site to see any additional information available about this pet.Interested in this Little Buddy?  Please visit our website (littlebuddies.rescuegroups.org/forms) and complete an Adoption Application. December 6, 2023, 12:16 am
Use the search tool below to browse adoptable Burmese kittens and adults Burmese in Gaithersburg, Maryland.
There are animal shelters and rescues that focus specifically on finding great homes for Burmese kittens in Gaithersburg, Maryland. Browse these Burmese rescues and shelters below.
We've got all the info you need on adopting and caring for a Burmese kitten. Check out the links below for everything you ever wanted to know about Burmese kittens and adults.