Adopt a Burmese near you in Mason, Michigan
We don't see any Burmeses available for adoption right now, but new adoptable pets are added every day. Try a different search below!
Or, how about these Burmeses in cities near Mason, Michigan
These Burmeses are available for adoption close to Mason, Michigan.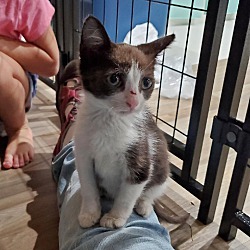 Daubi (Bonded to Peep)
Burmese
Size
(when grown) -
Details
Good with kids
,
Good with dogs
,
Good with cats
,
Spayed or Neutered
,
Story
Daubi is already living his second life. He was found in the grass as a home owner was cutting his lawn and almost ran him over. He was dehydrated but soaking in water from the rain. He had scabs on his head and nose. He's was about a pound underweight. He's recovered and is a beautiful boy now. We took him in and he was in bad shape but purring like a motor during the whole vet visit. He is a LUV BUG BiG TIME. He is recovering from his ordeal very quickly and is now on the mend. Turns out he's a rare breed mix. He's part Burmese and DSH. He has this gorgeous chocolate color and white which makes him a Chocolate Tuxedo. You don't see this color often in cats. He has a VERY long tail as well. He's quite the fellow. Just wants to be with people constantly. So we are looking for a non-smoking home, with his bonded housemate Peep. A person who is gone a forty hour week isn't going to make them happy so someone who is home more often or there are two people or three in the home is fine. He's often happy to just sit on your and purr away for hours. He plays hard with Peep and then expects to snuggle with his person. For more information call or text me at 517 294 4514 and make sure to leave me a phone number or email me your number at marlas2468@yahoo.com, if you want a response from us. Don't forget to leave a phone number or just call me directly. Otherwise we might not respond.
Use the search tool below to browse adoptable Burmese kittens and adults Burmese in Mason, Michigan.
There are animal shelters and rescues that focus specifically on finding great homes for Burmese kittens in Mason, Michigan. Browse these Burmese rescues and shelters below.
We've got all the info you need on adopting and caring for a Burmese kitten. Check out the links below for everything you ever wanted to know about Burmese kittens and adults.