Adopt a Calico near you in Lafayette, Tennessee
We don't see any Calicos available for adoption right now, but new adoptable pets are added every day. Try a different search below!
Or, how about these Calicos in cities near Lafayette, Tennessee
These Calicos are available for adoption close to Lafayette, Tennessee.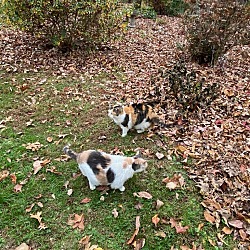 Size
(when grown) -
Details
Good with kids
,
Good with cats
,
Spayed or Neutered
,
Story
Owner passed away recently. Need to find a good home for both senior cats as soon as possible. They are littler trained, good cats and twisty loves being petted.
Use the search tool below to browse adoptable Calico kittens and adults Calico in Lafayette, Tennessee.