Adopt a Domestic Mediumhair near you in Parsons, Kansas
We don't see any Domestic Mediumhairs available for adoption right now, but new adoptable pets are added every day. Try a different search below!
Or, how about these Domestic Mediumhairs in cities near Parsons, Kansas
These Domestic Mediumhairs are available for adoption close to Parsons, Kansas.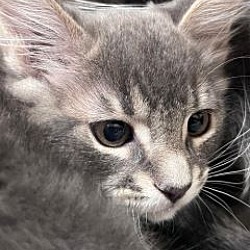 Boopity 28413
Domestic Mediumhair
Size
(when grown) -
Details
Story
-
Size
(when grown) -
Details
Good with kids
,
Good with dogs
,
Not good with cats
,
Spayed or Neutered
,
Story
Taz is a very loving xxxx@xxxx.x people and with small dogs. He is not happy to share his "people" with other cats which is why he needs to be placed in a new home. My sister as well as her 4 cats have moved in with us and he has not been happy with the new additions to our household. He loves to sit on your lap and enjoy soft cuddles. He also is very fond of sitting on the back of your couch and looking out the window. He has learned to use a doggy door in order to enjoy watching the birds and squirrels although his front claws were removed when he was young. Because our home is in the country he has enjoyed catching the occasional mouse that may venture in our home!
Use the search tool below to browse adoptable Domestic Mediumhair kittens and adults Domestic Mediumhair in Parsons, Kansas.
There are animal shelters and rescues that focus specifically on finding great homes for Domestic Mediumhair kittens in Parsons, Kansas. Browse these Domestic Mediumhair rescues and shelters below.
We've got all the info you need on adopting and caring for a Domestic Mediumhair kitten. Check out the links below for everything you ever wanted to know about Domestic Mediumhair kittens and adults.