Adopt a Himalayan near you in Inglewood, California
We don't see any Himalayans available for adoption right now, but new adoptable pets are added every day. Try a different search below!
Or, how about these Himalayans in cities near Inglewood, California
These Himalayans are available for adoption close to Inglewood, California.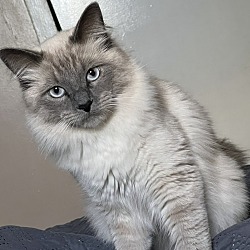 Size
(when grown) -
Details
Story
His name is Phineas but also answers to Finny. He loves being around people and loves sleeping at the foot of our beds. He minds his own business mostly and but wants to be rubbed from his head down to his tail when he's in the mood. Not afraid of strangers will meow and rub against anyone.
Use the search tool below to browse adoptable Himalayan kittens and adults Himalayan in Inglewood, California.