Adopt a Siamese near you in Lyndhurst, Ohio
We don't see any Siameses available for adoption right now, but new adoptable pets are added every day. Try a different search below!
Or, how about these Siameses in cities near Lyndhurst, Ohio
These Siameses are available for adoption close to Lyndhurst, Ohio.
Size
(when grown) -
Details
Good with kids
,
Good with cats
,
Spayed or Neutered
,
Story
Mocha was rescued by me as part of a multi cat rescue. She is gentle and enjoys being petted. She will need some adjustment period as all cats do. She is Spayed, rabies, fvrcp and leukemia vaccines, deflead, dewormed. NO representation she is full Siamese. We DONT breed and nobody should. She is a rescue. Vet states likely siamese. Will state siamese mix. Born approximately spring 2022. Adoption fee $150. Contact Laurene at 216-832-1106 or huey155@roadrunner.com. No texts please. A Home visit is mandatory by me.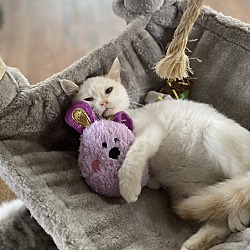 Size
(when grown) -
Details
Story
This little guy will make you fall in love as soon as you look into his beautiful blue eyes, such a calm laid back kitty, perfect for laying around and just hanging out
Use the search tool below to browse adoptable Siamese kittens and adults Siamese in Lyndhurst, Ohio.
There are animal shelters and rescues that focus specifically on finding great homes for Siamese kittens in Lyndhurst, Ohio. Browse these Siamese rescues and shelters below.
We've got all the info you need on adopting and caring for a Siamese kitten. Check out the links below for everything you ever wanted to know about Siamese kittens and adults.