Adopt a Turkish Angora near you in Conroe, Texas
We don't see any Turkish Angoras available for adoption right now, but new adoptable pets are added every day. Try a different search below!
Or, how about these Turkish Angoras in cities near Conroe, Texas
These Turkish Angoras are available for adoption close to Conroe, Texas.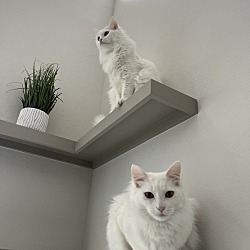 Mocha and Mellow
Turkish Angora
Size
(when grown) -
Details
Story
Mocha and Mellow are absolutely sweet. Everyone that meets Mocha and Mellow automatically fall in love with them. They are inseparable. Mocha is super friendly in cuddly with everyone but Mellow needs a few days to get used to you. Just give him food and treats he will start loving you. They love people, no matter what crowd. They love to cuddle and play. They're extremely clean and love taking care of themselves. They never had bad breath and never smelled bad. They love each other and enjoy each others company. The reason I listed them for a high price is because it's extremely rare to find loving cats like Mocha and Mellow, also just to ensure it is going to a family that is serious. I have had them since they were kittens and they're 2 years old. Mocha and Mellow are brothers that love to groom one another. I feed them wet food twice a day and they have dry food throughout the day. They like hanging out in the balcony. I can answer any questions you may have.
Use the search tool below to browse adoptable Turkish Angora kittens and adults Turkish Angora in Conroe, Texas.