Adopt an Oriental near you in La Puente, California
We don't see any Orientals available for adoption right now, but new adoptable pets are added every day. Try a different search below!
Or, how about these Orientals in cities near La Puente, California
These Orientals are available for adoption close to La Puente, California.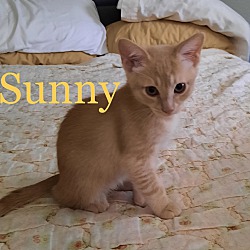 Size
(when grown) -
Details
Good with kids
,
Good with cats
,
Story
Sunny is exactly that. He is a super happy kitten with a Sunny disposition. When he gets tired he becomes affectionate and loves to cuddle he is the perfect first pet for any child the purge t kitten for any family or single person alike. if you would like to meet our little sun beam face to fur call Karen @661-317-2253
Use the search tool below to browse adoptable Oriental kittens and adults Oriental in La Puente, California.
There are animal shelters and rescues that focus specifically on finding great homes for Oriental kittens in La Puente, California. Browse these Oriental rescues and shelters below.
We've got all the info you need on adopting and caring for an Oriental kitten. Check out the links below for everything you ever wanted to know about Oriental kittens and adults.