Adopt an Oriental near you in Laguna Beach, California
We don't see any Orientals available for adoption right now, but new adoptable pets are added every day. Try a different search below!
Or, how about these Orientals in cities near Laguna Beach, California
These Orientals are available for adoption close to Laguna Beach, California.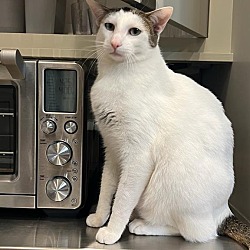 Size
(when grown) -
Details
Good with kids
,
Good with dogs
,
Good with cats
,
Spayed or Neutered
,
Story
Meet Moe! Available in SAN DIEGO, CA! Moe also has the nickname Alien. This awesome big kitty is such a cool cat. He loves to be around dogs, loves cuddles with his humans, and loves watching TV! He is a big kitty full of love. Though he currently lives in foster with about 10 other kitties, Moe might prefer a home with slightly less cat action and more one on one attention! Moe is neutered and up to date on vaccines. Please send us an application for sweet Moe at wetnosesrescue.org/adopt!
Use the search tool below to browse adoptable Oriental kittens and adults Oriental in Laguna Beach, California.
There are animal shelters and rescues that focus specifically on finding great homes for Oriental kittens in Laguna Beach, California. Browse these Oriental rescues and shelters below.
We've got all the info you need on adopting and caring for an Oriental kitten. Check out the links below for everything you ever wanted to know about Oriental kittens and adults.