Adopt a Bombay near you in Oak Park, Illinois
We don't see any Bombays available for adoption right now, but new adoptable pets are added every day. Try a different search below!
Or, how about these Bombays in cities near Oak Park, Illinois
These Bombays are available for adoption close to Oak Park, Illinois.
These pups are in Oak Park, Illinois too!
Below are our newest added Bombays available for adoption in Oak Park, Illinois. To see more adoptable Bombays in Oak Park, Illinois, use the search tool below to enter specific criteria!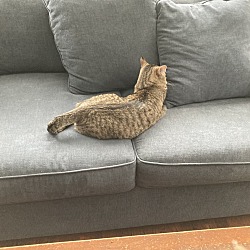 Sunshine
American Shorthair
Size
(when grown) -
Details
Good with kids
,
Good with dogs
,
Not good with cats
,
Spayed or Neutered
,
Story
We got Sunshine from a farm when he was 6 or 7 weeks in July of 2020. He is a nice lap cat but does not get along with our other cats (2 sisters), which we had before getting this one. They had a hard time coexisting to start but after months seemed to get along. Sunshine is still young and wants to play with the other cats but they are older and do not have a lot of play in their nature. It seems like the other cats misunderstand the his intentions to play and become defensive. In the past few months they have become very territorial. We tried our best to make the situation work for a very long time but recognize it is not reconcilable. We love him so much but the life for all 3 cats living together seems more than unpleasant for all of them. We just want Sunshine to have a nice home with a nice owner. We will miss him dearly.
Use the search tool below to browse adoptable Bombay kittens and adults Bombay in Oak Park, Illinois.
There are animal shelters and rescues that focus specifically on finding great homes for Bombay kittens in Oak Park, Illinois. Browse these Bombay rescues and shelters below.
We've got all the info you need on adopting and caring for a Bombay kitten. Check out the links below for everything you ever wanted to know about Bombay kittens and adults.