Adopt a Bull Terrier near you in Portage, Wisconsin
We don't see any Bull Terriers available for adoption right now, but new adoptable pets are added every day. Try a different search below!
Or, how about these Bull Terriers in cities near Portage, Wisconsin
These Bull Terriers are available for adoption close to Portage, Wisconsin.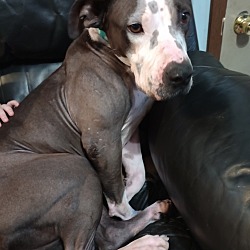 Alexis-Marie
Bull Terrier Shar Pei
Size
(when grown) Med. 26-60 lbs (12-27 kg)
Details
-
Story
Do we have a truck driver friend who needs a dog? Or someone who's home almost all the time?.  Alexis-Marie is looking for her forever she's super sweet and loves to be with her person. She pretty much doesn't move much from the couch unless it's time to eat or she wants outside. She does fine with kids but kids that are very rambunctious and loud (like ours) make her a little nervous she's not mean or anything she just stays in her spot and watches what they're doing. We feel she would be best as an only dog. She would probably be ok with another dog in the house if it's a complete lazy bones dog like she is. she doesn't like other dogs in her face to much but she's fine if they're laying across the room or the other side of the couch. She seemed to do okay with cats but... The only time we've ever seen her run was when a cat ran... So if the cat is a teaser probably wouldn't be a good idea. She either doesn't like kennels or just wants to be with... She does sleep in her kennel at night thats in our bedroom. But when we try to kennel her and leave the house she managed to escape the kennel. If you've ever felt one of those naked cats or hairless dogs. That's what she currently feels like her skin and coat have been slowly getting better since coming to us. She kinda feel like velvet she loves to snuggle and give kisses. She's smaller then her pics make her look. She's currently 45 pounds she's gained 14 pounds since coming to Wisconsin and is a little muscle meatball. She walks well on a leash and hasn't had any potty accidents in our home. If you're looking to add this hunk of love to your couch please let us know. ##1645530##
Use the search tool below to browse adoptable Bull Terrier puppies and adults Bull Terrier in Portage, Wisconsin.
There are animal shelters and rescues that focus specifically on finding great homes for Bull Terrier puppies in Portage, Wisconsin. Browse these Bull Terrier rescues and shelters below.
We've got all the info you need on adopting and caring for a Bull Terrier puppy. Check out the links below for everything you ever wanted to know about Bull Terrier puppies and adults.