Adopt a Burmese near you in Golden Valley, Minnesota
We don't see any Burmeses available for adoption right now, but new adoptable pets are added every day. Try a different search below!
Or, how about these Burmeses in cities near Golden Valley, Minnesota
These Burmeses are available for adoption close to Golden Valley, Minnesota.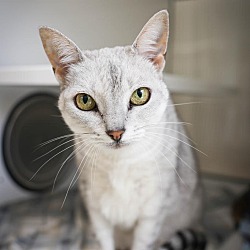 Momo
Burmese
Female,

8 yrs 9 mos
,
Special Needs
Size
(when grown) -
Details
Not good with dogs
,
Not good with cats
,
Needs special attention
,
Spayed or Neutered
,
Story
Bring home part of the Caribbean paradise by making Momo part of your family. She came to the United States 8 years ago from the Caribbean Turks and Caicos islands as part of a veterinary mission trip.Momo is very loving with her caretaker, purring and making biscuits. She will build a loving bond with you. She is timid of new people but adjusts very well if allowed to take her time. She is affectionate and curious to see what her humans are up to at all times. This lap cat makes biscuits and loves sharing a bed with her human. She also enjoys lounging in high places and is occasionally playful. She does not like being picked up. She hopes that she can find her own paradise in a home where she does not have to share with other cats or dogs.Once she's comfortable, Momo loves being brushed with a purple Zoom Groom brush, which is her absolute favorite. She also likes the slicker brushes for some variety.Please visit https://felinerescue.org/all-cats/ to learn more about me and where I am located!
Use the search tool below to browse adoptable Burmese kittens and adults Burmese in Golden Valley, Minnesota.
There are animal shelters and rescues that focus specifically on finding great homes for Burmese kittens in Golden Valley, Minnesota. Browse these Burmese rescues and shelters below.
We've got all the info you need on adopting and caring for a Burmese kitten. Check out the links below for everything you ever wanted to know about Burmese kittens and adults.