Adopt a Maine Coon near you in Toledo, Ohio
We don't see any Maine Coons available for adoption right now, but new adoptable pets are added every day. Try a different search below!
Or, how about these Maine Coons in cities near Toledo, Ohio
These Maine Coons are available for adoption close to Toledo, Ohio.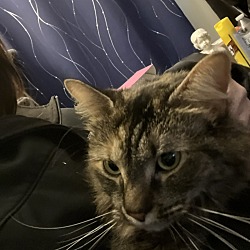 Size
(when grown) -
Details
Story
Persephone is a super sweet cat. She however is terrified of my dog and I've tried to acclimate her as I have had her since she was a kitten. She is super sweet and would do well in a house with no dogs. She is good with other cats and older children. I feel that she would be less stressed in a setting without any dogs even though I am sad to let her go, I would be happy if she went to a good home and wasn't stressed. She is spayed she does need her immunizations boosted. She has received all initial vet care through Lilly vet clinic.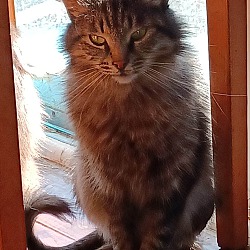 Arrow (URGENT)
Maine Coon
Female,

2 yrs 8 mos
,
Bonded Pair
Size
(when grown) -
Details
Story
UPDATE: THESE SISTERS ARE LOSING THEIR HOME ON SATURDAY, WE NEED A FOSTER OR ADOPTER FOR THEM. THEY ARE SWEET SPECIAL GIRLS. Arrow and her sister, Lucy Lu are a bonded pair of siblings. They came from a horrible situation. They were from a hoarding situation. Their pet parent has now lost her home and so all her pets need to be rehomed. Lucy Lu is a Chocolate Burmese and Arrow is a Maine Coon mix. Both are sweet, both are friendly with dogs as they have lived with dogs their whole lives. They have never lived around little children so little kids are most likely not to their comfort zone. Arrow was suffering from stress in her home to the point that she was losing her fur. We have vetted her and finally she is starting to recover and her fur is growing back. Once we get her and Lucy into a loving home she on healthy food she should easily get back to her beautiful coat again. We are looking for a non smoking home for her. For more information on Arrow and Lucy Lu, call or text me at 517 294 4514 or email me your phone number to marlas2468@yahoo.com
Use the search tool below to browse adoptable Maine Coon kittens and adults Maine Coon in Toledo, Ohio.
There are animal shelters and rescues that focus specifically on finding great homes for Maine Coon kittens in Toledo, Ohio. Browse these Maine Coon rescues and shelters below.
We've got all the info you need on adopting and caring for a Maine Coon kitten. Check out the links below for everything you ever wanted to know about Maine Coon kittens and adults.