Adopt a Snowshoe near you in Chino, California
We don't see any Snowshoes available for adoption right now, but new adoptable pets are added every day. Try a different search below!
Or, how about these Snowshoes in cities near Chino, California
These Snowshoes are available for adoption close to Chino, California.
These pups are in Chino, California too!
Below are our newest added Snowshoes available for adoption in Chino, California. To see more adoptable Snowshoes in Chino, California, use the search tool below to enter specific criteria!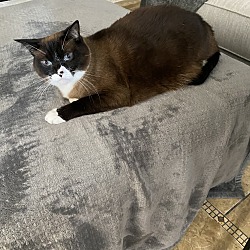 Size
(when grown) -
Details
Good with kids
,
Not good with dogs
,
Good with cats
,
Spayed or Neutered
,
Story
We need to rehome Fifi. We got a pet Rottweiler and she is not a fan. Fifi is very calm, likes to sleep and hangout. She is very good with kids and is house trained.
Use the search tool below to browse adoptable Snowshoe kittens and adults Snowshoe in Chino, California.
There are animal shelters and rescues that focus specifically on finding great homes for Snowshoe kittens in Chino, California. Browse these Snowshoe rescues and shelters below.
We've got all the info you need on adopting and caring for a Snowshoe kitten. Check out the links below for everything you ever wanted to know about Snowshoe kittens and adults.