Adopt a Snowshoe near you in Fairfield, California
We don't see any Snowshoes available for adoption right now, but new adoptable pets are added every day. Try a different search below!
Or, how about these Snowshoes in cities near Fairfield, California
These Snowshoes are available for adoption close to Fairfield, California.
These pups are in Fairfield, California too!
Below are our newest added Snowshoes available for adoption in Fairfield, California. To see more adoptable Snowshoes in Fairfield, California, use the search tool below to enter specific criteria!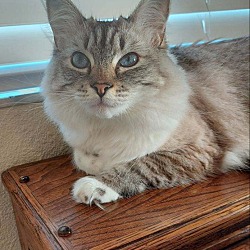 Size
(when grown) -
Details
Not good with dogs
,
Not good with cats
,
Spayed or Neutered
,
Story
Lola is a very nice INDOOR ONLY cat- siamese lynx point. She would never bite or scratch, even when playing. She has kitty anxiety so it will take her a week or so to warm up to you. She is not good with other animals. She loves attention, expecially playing. She will not eat human food. She enjoys face and neck scratches. She is very soft and tolerates cuddles. If you are lonely at home during the day and need a super furry friend, Lola is the cat for you. My daughter has been in the hospital and is now moving and can not take Lola with her. We have been taking care of Lola for about 8 weeks and she is calm, patient and loves attention. She has all of her shots except rabies.
Use the search tool below to browse adoptable Snowshoe kittens and adults Snowshoe in Fairfield, California.
There are animal shelters and rescues that focus specifically on finding great homes for Snowshoe kittens in Fairfield, California. Browse these Snowshoe rescues and shelters below.
We've got all the info you need on adopting and caring for a Snowshoe kitten. Check out the links below for everything you ever wanted to know about Snowshoe kittens and adults.