Adopt an Abyssinian near you in Howell, Michigan
We don't see any Abyssinians available for adoption right now, but new adoptable pets are added every day. Try a different search below!
Or, how about these Abyssinians in cities near Howell, Michigan
These Abyssinians are available for adoption close to Howell, Michigan.
These pups are in Howell, Michigan too!
Below are our newest added Abyssinians available for adoption in Howell, Michigan. To see more adoptable Abyssinians in Howell, Michigan, use the search tool below to enter specific criteria!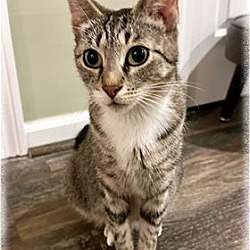 Magnolia
Colorpoint Shorthair
Size
(when grown) -
Details
Story
Make sure you let us know you saw Magnolia on Adopt-a-pet. Magnolia is as dainty and lovely as her name implies. She is quite social, loves to be petted and scratched and rub up against your legs. She will let you pick her up and hold her and often purrs. She does not seem to understand what toys are but in a nice, comfortable home, where she's not busy nursing her babies anymore, she will likely learn the joys of cat toys. She uses the litter box like a pro.
Use the search tool below to browse adoptable Abyssinian kittens and adults Abyssinian in Howell, Michigan.
There are animal shelters and rescues that focus specifically on finding great homes for Abyssinian kittens in Howell, Michigan. Browse these Abyssinian rescues and shelters below.
We've got all the info you need on adopting and caring for an Abyssinian kitten. Check out the links below for everything you ever wanted to know about Abyssinian kittens and adults.