Adopt a Calico near you in Villa Hills, Kentucky
We don't see any Calicos available for adoption right now, but new adoptable pets are added every day. Try a different search below!
Or, how about these Calicos in cities near Villa Hills, Kentucky
These Calicos are available for adoption close to Villa Hills, Kentucky.
These pups are in Villa Hills, Kentucky too!
Below are our newest added Calicos available for adoption in Villa Hills, Kentucky. To see more adoptable Calicos in Villa Hills, Kentucky, use the search tool below to enter specific criteria!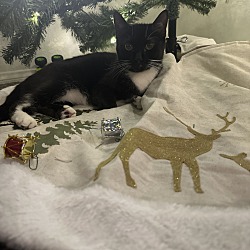 Waffles
Domestic Shorthair
Size
(when grown) -
Details
Good with kids
,
Good with cats
,
Spayed or Neutered
,
Story
Waffles is a 2 year old tuxedo kitty with a lot of personality. She loves to play and more than anything, she loves to cuddle. She's always been around other kitties her whole life as we fostered for a few years. Waffles get very overwhelmed if multiple cats are around. One other cat was fine but three was pushing it. She was given to us when she was just a little baby at about 5 weeks by a friend. She's up to date on her shots and is microchipped. She is spayed and is an all around healthy kitty. She loves to be around people and do everything with them. She is also very very vocal. We hope to find a loving family for her, she's never been aggressive and is very good with older children. Please message me with any questions!
Use the search tool below to browse adoptable Calico kittens and adults Calico in Villa Hills, Kentucky.
There are animal shelters and rescues that focus specifically on finding great homes for Calico kittens in Villa Hills, Kentucky. Browse these Calico rescues and shelters below.
We've got all the info you need on adopting and caring for a Calico kitten. Check out the links below for everything you ever wanted to know about Calico kittens and adults.