Adopt a Calico near you in Draper, Utah
We don't see any Calicos available for adoption right now, but new adoptable pets are added every day. Try a different search below!
Or, how about these Calicos in cities near Draper, Utah
These Calicos are available for adoption close to Draper, Utah.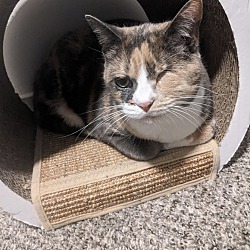 Winx
Calico
Female,

7 yrs 3 mos
,
Special Needs
Size
(when grown) -
Details
Needs special attention
,
Needs experienced adopter
,
Spayed or Neutered
,
Story
Meet Winx! Winx is a 7 year old Calico. She was surrendered due to the family having a new baby that had an allergy to her. They loved her dearly and wanted her to go to a great home. She is a very sweet loving cat and would do best in a ONLY cat household. When Winx was a kitten she was found with a severe eye infection and had to lose one of her eyes. Winx gets along great without it and loves affection and attention. She loves her people and would love all the attention she can get.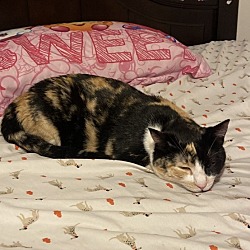 Pearl
Calico
Female,

young
,
Bonded Pair
Size
(when grown) -
Details
Story
Pearl will be 2, June 2023. She is a very sweet energetic cat. Always wanting to play and loves to be near her humans. She is good around cats and dogs, as well as children. She is mostly on the move, but also loves to snuggle up at night time in bed with her humans. She loves to go outside when she gets the chance. But she is amazing and stays in our front and backyard, just hanging around the home with us and then sits at the window to come in. We are relocating and unfortunately unable to bring her and her brother. Would like to find a home for them together.
Use the search tool below to browse adoptable Calico kittens and adults Calico in Draper, Utah.
There are animal shelters and rescues that focus specifically on finding great homes for Calico kittens in Draper, Utah. Browse these Calico rescues and shelters below.
We've got all the info you need on adopting and caring for a Calico kitten. Check out the links below for everything you ever wanted to know about Calico kittens and adults.