Adopt a Himalayan near you in Laguna Beach, California
We don't see any Himalayans available for adoption right now, but new adoptable pets are added every day. Try a different search below!
Or, how about these Himalayans in cities near Laguna Beach, California
These Himalayans are available for adoption close to Laguna Beach, California.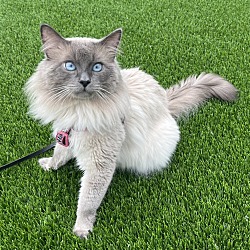 Size
(when grown) -
Details
Good with kids
,
Good with dogs
,
Good with cats
,
Needs special attention
,
Story
Sweetest cat ever. Loves to cuddle, be brushed, loves attention and loves to eat (wet food). He sleeps on me or where he can feel me when I'm sleeping. He watches over me when others are around. He's ok with car rides and plays fetch. Indoor kitty but walks on a leash outside. Friendly in any situation. But he was born without testicles so he can't be neutered so he sprays. That's the only negative cause he is the best cat ever! He's comfortable wearing diapers. He's best in a home without other animals as he likes to be king and may not spray without competition. It kills me to let him go. I raised him since 6 weeks old when I bottle fed him. He's been babied and looking for a home that will spoil him too! He's the love of my life… He is a Himalayan Ragdoll mix.
Use the search tool below to browse adoptable Himalayan kittens and adults Himalayan in Laguna Beach, California.