Adopt a Shar Pei near you in Salinas, California
We don't see any Shar Peis available for adoption right now, but new adoptable pets are added every day. Try a different search below!
Or, how about these Shar Peis in cities near Salinas, California
These Shar Peis are available for adoption close to Salinas, California.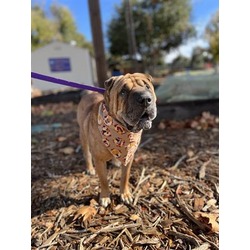 Size
(when grown) -
Details
Story
My name is Honey I am a senior Sharpei.I was recently surrendered along with my sister Little Girl heres some information my previous mom had to say about me:I`m potty trained, crate trained, I lived with 4 other dogs and did great, I`m known to hunt small animals so I shouldn`t be in a home with s/a or cats.I`m sweet and calm.Interested in meeting me? Please visit our adoption center located at 12425 Monterey Rd in San Martin anytime during open hours (12-6pm weekdays, 12-5 pm weekends). No appointment is necessary and there is no pre-application process.
Use the search tool below to browse adoptable Shar Pei puppies and adults Shar Pei in Salinas, California.
There are animal shelters and rescues that focus specifically on finding great homes for Shar Pei puppies in Salinas, California. Browse these Shar Pei rescues and shelters below.
We've got all the info you need on adopting and caring for a Shar Pei puppy. Check out the links below for everything you ever wanted to know about Shar Pei puppies and adults.