Adopt a Siamese near you in Robinson, Texas
We don't see any Siameses available for adoption right now, but new adoptable pets are added every day. Try a different search below!
Or, how about these Siameses in cities near Robinson, Texas
These Siameses are available for adoption close to Robinson, Texas.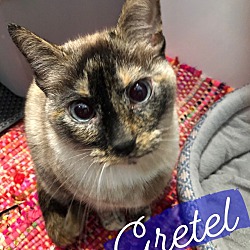 Size
(when grown) -
Details
Good with kids
,
Good with dogs
,
Not good with cats
,
Spayed or Neutered
,
Story
This is Gretel. She is very friendly and loves to talk to you. She can be a tad shy at first but warms up quickly. She is also really good around dogs. She's very, very cross eyed and has some difficulty focusing most of the time and is goofy when she tries to play. She does like to play but limited. She's a lap girl and usually favors men. She will drink from a water fountain if one is provided.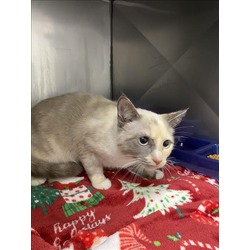 Size
(when grown) -
Details
-
Story
-
Use the search tool below to browse adoptable Siamese kittens and adults Siamese in Robinson, Texas.
There are animal shelters and rescues that focus specifically on finding great homes for Siamese kittens in Robinson, Texas. Browse these Siamese rescues and shelters below.
We've got all the info you need on adopting and caring for a Siamese kitten. Check out the links below for everything you ever wanted to know about Siamese kittens and adults.