Adopt a Bombay near you in Arcadia, California
We don't see any Bombays available for adoption right now, but new adoptable pets are added every day. Try a different search below!
Or, how about these Bombays in cities near Arcadia, California
These Bombays are available for adoption close to Arcadia, California.
These pups are in Arcadia, California too!
Below are our newest added Bombays available for adoption in Arcadia, California. To see more adoptable Bombays in Arcadia, California, use the search tool below to enter specific criteria!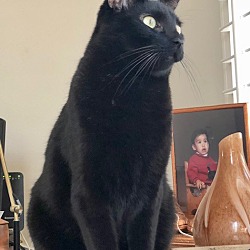 Size
(when grown) -
Details
Not good with kids
,
Not good with dogs
,
Good with cats
,
Spayed or Neutered
,
Story
Luca is approximately 9 years old, very lovable but extremely timid. She has a companion Libby that I would love to keep with her as they have always been together. Luca is better suited for a quiet home without children and other pets due to her being so timid. She loves to cuddle at night, we do have a small dog and they have been fine together but I know the environment she will be best in. Very clean, always uses the litter box. She is neutered but due to them always being inside i never vaccinated them. My grandson has had cat allergies and they recently have been over the top. He is too young to undergo allergy testing or meds and due to the recent flare up has had to miss school making it financially difficult for his mom as she has had to miss work. We cannot continue this way and are in desperate need of a new home for Luca and hopefully Luca too. Please help
Use the search tool below to browse adoptable Bombay kittens and adults Bombay in Arcadia, California.
There are animal shelters and rescues that focus specifically on finding great homes for Bombay kittens in Arcadia, California. Browse these Bombay rescues and shelters below.
We've got all the info you need on adopting and caring for a Bombay kitten. Check out the links below for everything you ever wanted to know about Bombay kittens and adults.