Adopt a Calico near you in Highland, Indiana
We don't see any Calicos available for adoption right now, but new adoptable pets are added every day. Try a different search below!
Or, how about these Calicos in cities near Highland, Indiana
These Calicos are available for adoption close to Highland, Indiana.
These pups are in Highland, Indiana too!
Below are our newest added Calicos available for adoption in Highland, Indiana. To see more adoptable Calicos in Highland, Indiana, use the search tool below to enter specific criteria!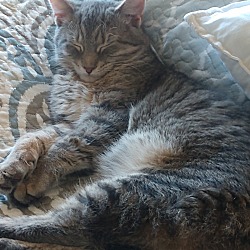 Size
(when grown) -
Details
Good with kids
,
Good with cats
,
Spayed or Neutered
,
Story
Wallen came to me last November when his family had to move and could not take him along. He was about 3 months old and super sweet. He immediately got along with my 7 year old boy. He is very loving, purrs like a freight train and likes to be you or with you. He is super curious and a little stubborn. I don't leave the house until I see his little face! Good eater, loves to play and has never had an accident in the house. I was hoping his family would take him back but it does not look like that will happen. I so want him to have a great forever home!
Use the search tool below to browse adoptable Calico kittens and adults Calico in Highland, Indiana.
There are animal shelters and rescues that focus specifically on finding great homes for Calico kittens in Highland, Indiana. Browse these Calico rescues and shelters below.
We've got all the info you need on adopting and caring for a Calico kitten. Check out the links below for everything you ever wanted to know about Calico kittens and adults.