Adopt a Calico near you in Elizabeth, New Jersey
We don't see any Calicos available for adoption right now, but new adoptable pets are added every day. Try a different search below!
Or, how about these Calicos in cities near Elizabeth, New Jersey
These Calicos are available for adoption close to Elizabeth, New Jersey.
These pups are in Elizabeth, New Jersey too!
Below are our newest added Calicos available for adoption in Elizabeth, New Jersey. To see more adoptable Calicos in Elizabeth, New Jersey, use the search tool below to enter specific criteria!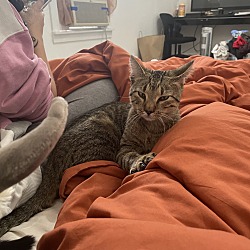 Size
(when grown) -
Details
Good with kids
,
Good with dogs
,
Story
I got Miso from a friend who raised an outdoor cat that ended up having kittens. Their yard was a bit dangerous for the kittens and it started to get cold so I ended up taking one of them in. Miso was shy at first but is now the most curious, playful, and absolutely loving cat ever. He's about a year old but I haven't had the resources to get him properly checked and vaccinated. It breaks my heart to have to give him up but my mother no longer wants the cat in the house and is threatening to get rid of him. I am also going to college out of state and will not be able to take him with me which is why I hope to find someone kind who can give him the energy, care, and time he deserves.
Use the search tool below to browse adoptable Calico kittens and adults Calico in Elizabeth, New Jersey.
There are animal shelters and rescues that focus specifically on finding great homes for Calico kittens in Elizabeth, New Jersey. Browse these Calico rescues and shelters below.
We've got all the info you need on adopting and caring for a Calico kitten. Check out the links below for everything you ever wanted to know about Calico kittens and adults.