Adopt a Bombay near you in Commerce, Georgia
We don't see any Bombays available for adoption right now, but new adoptable pets are added every day. Try a different search below!
Or, how about these Bombays in cities near Commerce, Georgia
These Bombays are available for adoption close to Commerce, Georgia.
These pups are in Commerce, Georgia too!
Below are our newest added Bombays available for adoption in Commerce, Georgia. To see more adoptable Bombays in Commerce, Georgia, use the search tool below to enter specific criteria!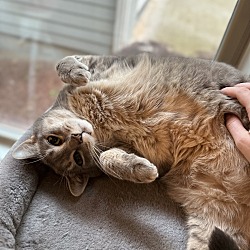 Size
(when grown) -
Details
Story
Jax was born in 2014 and has only been with our family. He is indoor only but will stay by us when we go on the porch on occasion. He LOVES people and I cannot express that enough. You can never give this cat too much attention. He currently uses his litter robot but any box will do. He eats indoor purina hard food and a can of soft food in the afternoon. Once he gets used to another cat after about a week or so, he will become best friends. Just know, it does take a little bit of time to warm up to another cat but he will eventually become their cuddle buddy. Jax is great with our 1 year old but unfortunately, Jax requires more attention than we are able to give him with a child. I feel as if I am doing a disservice to him by keeping him here when he needs a family that can give him more attention than we can. This has been a very difficult decision and we want to ensure that he goes to the right home.
Use the search tool below to browse adoptable Bombay kittens and adults Bombay in Commerce, Georgia.
There are animal shelters and rescues that focus specifically on finding great homes for Bombay kittens in Commerce, Georgia. Browse these Bombay rescues and shelters below.
We've got all the info you need on adopting and caring for a Bombay kitten. Check out the links below for everything you ever wanted to know about Bombay kittens and adults.