Adopt a Bombay near you in Mineola, New York
We don't see any Bombays available for adoption right now, but new adoptable pets are added every day. Try a different search below!
Or, how about these Bombays in cities near Mineola, New York
These Bombays are available for adoption close to Mineola, New York.
These pups are in Mineola, New York too!
Below are our newest added Bombays available for adoption in Mineola, New York. To see more adoptable Bombays in Mineola, New York, use the search tool below to enter specific criteria!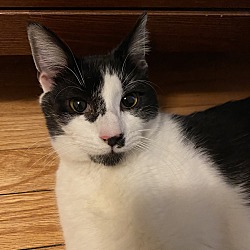 Size
(when grown) -
Details
Story
Henry is an absolute sweetheart. Every night he sleeps right next to my head and usually rests his head on my shoulders. He is very social and loves meeting new people. He LOVES to play with his feather wand and is treat motivated. I am looking for a loving home for him because my work schedule has completely consumed my life and I just don't feel like he is getting the attention that he deserves. He's such a sweet and loving boy.
Use the search tool below to browse adoptable Bombay kittens and adults Bombay in Mineola, New York.
There are animal shelters and rescues that focus specifically on finding great homes for Bombay kittens in Mineola, New York. Browse these Bombay rescues and shelters below.
We've got all the info you need on adopting and caring for a Bombay kitten. Check out the links below for everything you ever wanted to know about Bombay kittens and adults.