Adopt a Calico near you in Archdale, North Carolina
We don't see any Calicos available for adoption right now, but new adoptable pets are added every day. Try a different search below!
Or, how about these Calicos in cities near Archdale, North Carolina
These Calicos are available for adoption close to Archdale, North Carolina.
These pups are in Archdale, North Carolina too!
Below are our newest added Calicos available for adoption in Archdale, North Carolina. To see more adoptable Calicos in Archdale, North Carolina, use the search tool below to enter specific criteria!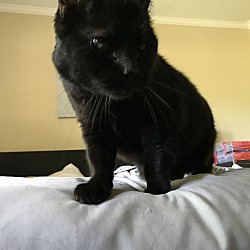 Black Beauty
Domestic Shorthair
Size
(when grown) -
Details
Story
Black Beauty is about 10 or 11 years old and mostly blind. Being mostly blind does not stop her from exploring and playing! She has been mostly blind since a young age and it was caused by another cat attacking her. She is scared and not comfortable around other cats. She would do great with someone that is retired or home often. She loves to cuddle and is very sweet. My husband adopted her from a shelter about 5 or 6 years ago before we were ever together. She loves to play and cuddle! She is sweet and loving. After we moved in together, we began to discover that I am allergic to cats. We want to find her a good home that can give her the attention and love she deserves. She can tolerate calm dogs, as long as they leave her alone. She was able to tolerate my senior dog, she would just hiss if he got too close in the beginning. They both learned to co-exist. We are hopefully moving by the end of summer and are hoping to rehome Black Beauty by then!
Use the search tool below to browse adoptable Calico kittens and adults Calico in Archdale, North Carolina.
There are animal shelters and rescues that focus specifically on finding great homes for Calico kittens in Archdale, North Carolina. Browse these Calico rescues and shelters below.
We've got all the info you need on adopting and caring for a Calico kitten. Check out the links below for everything you ever wanted to know about Calico kittens and adults.