Adopt a Bombay near you in Hesperia, California
We don't see any Bombays available for adoption right now, but new adoptable pets are added every day. Try a different search below!
Or, how about these Bombays in cities near Hesperia, California
These Bombays are available for adoption close to Hesperia, California.
These pups are in Hesperia, California too!
Below are our newest added Bombays available for adoption in Hesperia, California. To see more adoptable Bombays in Hesperia, California, use the search tool below to enter specific criteria!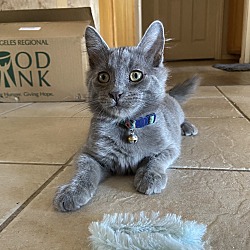 Size
(when grown) -
Details
Good with dogs
,
Good with cats
,
Story
This kitty desperately needs a home!! He was a stray that I took in but haven't been able to find a home or a rescue for. My parents don't want him around anymore and have threatened to leave him to fend for himself somewhere if I don't find a home soon. He is truly the sweetest thing. He was quite shy at first but is now very affectionate and loves cuddles. He is very playful and gets along well both with my other cat and my small dog. He has also acclimated to being indoors and is litterbox trained. He's not fixed or vaccinated yet since I haven't been able to afford it. If you know of any rescues not too far from the high desert, please let me know.
Use the search tool below to browse adoptable Bombay kittens and adults Bombay in Hesperia, California.
There are animal shelters and rescues that focus specifically on finding great homes for Bombay kittens in Hesperia, California. Browse these Bombay rescues and shelters below.
We've got all the info you need on adopting and caring for a Bombay kitten. Check out the links below for everything you ever wanted to know about Bombay kittens and adults.