Adopt a Maltese near you in Lowell, Indiana
We don't see any Maltese available for adoption right now, but new adoptable pets are added every day. Try a different search below!
Or, how about these Maltese in cities near Lowell, Indiana
These Maltese are available for adoption close to Lowell, Indiana.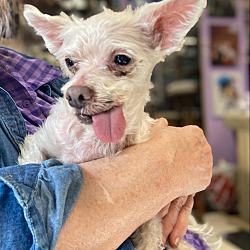 Size
(when grown) Small 25 lbs (11 kg) or less
Details
Not good with kids
,
Not good with dogs
,
Spayed or Neutered
,
Story
Donny Angel is a spunky little guy! He's very mobile for his age and like to sneak off with toys and treats for a moment to himself. He's very much a character! Donny Angel can be fearful and is triggered by quick movements or hands in his face, so we would want to pair him to an adult-only home. He is very much a lap dog and will give you a lot of companionship. He would prefer not to share his forever home with any other dogs. He wants to have your complete attention. This sweet guy is about 5lbs and around 10 years old.
Use the search tool below to browse adoptable Maltese puppies and adults Maltese in Lowell, Indiana.
There are animal shelters and rescues that focus specifically on finding great homes for Maltese puppies in Lowell, Indiana. Browse these Maltese rescues and shelters below.
We've got all the info you need on adopting and caring for a Maltese puppy. Check out the links below for everything you ever wanted to know about Maltese puppies and adults.