Adopt a Jack Russell Terrier near you in West Milton, Ohio
We don't see any Jack Russell Terriers available for adoption right now, but new adoptable pets are added every day. Try a different search below!
Or, how about these Jack Russell Terriers in cities near West Milton, Ohio
These Jack Russell Terriers are available for adoption close to West Milton, Ohio.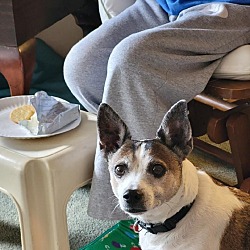 Charlie
Jack Russell Terrier
Size
(when grown) Small 25 lbs (11 kg) or less
Details
Not good with kids
,
Good with cats
,
Spayed or Neutered
,
Story
Charlie has been raised by adults he loves to take walks chase a ball and cover himself up in blankets
Use the search tool below to browse adoptable Jack Russell Terrier puppies and adults Jack Russell Terrier in West Milton, Ohio.