Adopt a Bombay near you in Watauga, Texas
We don't see any Bombays available for adoption right now, but new adoptable pets are added every day. Try a different search below!
Or, how about these Bombays in cities near Watauga, Texas
These Bombays are available for adoption close to Watauga, Texas.
These pups are in Watauga, Texas too!
Below are our newest added Bombays available for adoption in Watauga, Texas. To see more adoptable Bombays in Watauga, Texas, use the search tool below to enter specific criteria!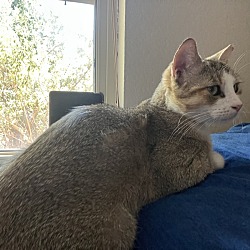 Size
(when grown) -
Details
Good with dogs
,
Not good with cats
,
Spayed or Neutered
,
Story
She was a stray, that had kittens five months ago. (In a neighbors backyard shed) We helped find her kittens homes. The vet thinks she is now about 18 months old. She has been spayed, and is up to date on her shots. She friendly with people and is fine with our small dogs, but does Not do well with our other (adult) cats. She is a sweetie who likes sitting on your lap getting her head scratched. She sometimes is a bit vocal, especially when she thinks it's time to eat. We would like her to go to a single Cat home to be spoiled companion.
Use the search tool below to browse adoptable Bombay kittens and adults Bombay in Watauga, Texas.
There are animal shelters and rescues that focus specifically on finding great homes for Bombay kittens in Watauga, Texas. Browse these Bombay rescues and shelters below.
We've got all the info you need on adopting and caring for a Bombay kitten. Check out the links below for everything you ever wanted to know about Bombay kittens and adults.