Adopt a Calico near you in Fenton, Michigan
We don't see any Calicos available for adoption right now, but new adoptable pets are added every day. Try a different search below!
Or, how about these Calicos in cities near Fenton, Michigan
These Calicos are available for adoption close to Fenton, Michigan.
These pups are in Fenton, Michigan too!
Below are our newest added Calicos available for adoption in Fenton, Michigan. To see more adoptable Calicos in Fenton, Michigan, use the search tool below to enter specific criteria!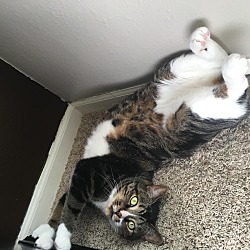 Size
(when grown) -
Details
Good with kids
,
Not good with dogs
,
Spayed or Neutered
,
Story
Tiger is about 8-10 years old. He's very shy but LOVES his people. He would be best in a home with one or two people and NO dogs. He is ok with kids, he just prefers quiet. He does warm up to you and is very cuddly affectionate once he gets to know you. Tiger woods is a polydactyl cat meaning he has multiple extra appendages on his front and hind paws. We call them thumbs! He does not scratch or destroy any material but loves a good scratch pad.
Use the search tool below to browse adoptable Calico kittens and adults Calico in Fenton, Michigan.
There are animal shelters and rescues that focus specifically on finding great homes for Calico kittens in Fenton, Michigan. Browse these Calico rescues and shelters below.
We've got all the info you need on adopting and caring for a Calico kitten. Check out the links below for everything you ever wanted to know about Calico kittens and adults.