Adopt a Calico near you in Sartell, Minnesota
We don't see any Calicos available for adoption right now, but new adoptable pets are added every day. Try a different search below!
Or, how about these Calicos in cities near Sartell, Minnesota
These Calicos are available for adoption close to Sartell, Minnesota.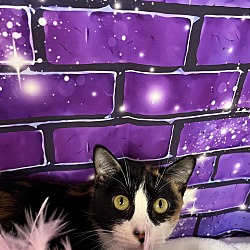 Size
(when grown) -
Details
Good with dogs
,
Good with cats
,
Spayed or Neutered
,
Story
Mena was found with her 5 kittens by a very nice lady in Texas! They decided to give Mena and her babies a home. Mena nursed her kittens until they were three months old...she was such a good mama! Mena finally got a break from her babies and that's when her personality really came out! She liked to play security guard at night, purrs like crazy, and loves her people! Mena also does not mind dogs and other cats. She can share her space well.  Mena loves wet food! It is recommended to not free-feed Mena as she will eat as much as she can, whenever she can!  Mena is a staff favorite! She has had a rough life but still has so much love to give! She us the absolute sweetest and loves people. Stop into Elk River Chuck and Don's to meet this loving girl, and fill out an application on aohrescue.org  ##1863746##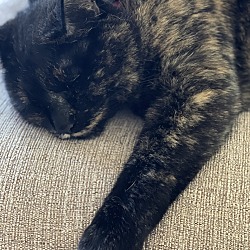 Size
(when grown) -
Details
Good with kids
,
Good with dogs
,
Good with cats
,
Spayed or Neutered
,
Story
Nala was adopted from the humane society at 6 months old and has been a part of our family for over 5 years now. She is very affectionate when she wants attention and actively try to grab your hand to get you to pet her. She is great with people and cats and dogs and is very well behaved. She is very tolerant of kids hugging her and holding her but will try to get free and complain if held too tightly. My niece visits often and absolutely adores both of our cats but is allergic and breaks out in hives so we unable to keep Nala and our other cat, Charlie.
Use the search tool below to browse adoptable Calico kittens and adults Calico in Sartell, Minnesota.
There are animal shelters and rescues that focus specifically on finding great homes for Calico kittens in Sartell, Minnesota. Browse these Calico rescues and shelters below.
We've got all the info you need on adopting and caring for a Calico kitten. Check out the links below for everything you ever wanted to know about Calico kittens and adults.