Adopt a Calico near you in Liberty, Missouri
We don't see any Calicos available for adoption right now, but new adoptable pets are added every day. Try a different search below!
Or, how about these Calicos in cities near Liberty, Missouri
These Calicos are available for adoption close to Liberty, Missouri.
These pups are in Liberty, Missouri too!
Below are our newest added Calicos available for adoption in Liberty, Missouri. To see more adoptable Calicos in Liberty, Missouri, use the search tool below to enter specific criteria!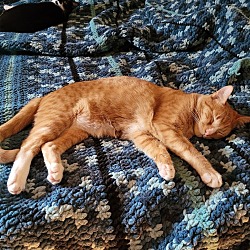 Rascal
Domestic Shorthair
Size
(when grown) -
Details
Good with kids
,
Good with dogs
,
Good with cats
,
Spayed or Neutered
,
Story
Rascal is a 2-year old male, orange and white tabby. Rascal does not have any known health issues. His birthday is 4/19/21. We adopted him from Petco 7/13/21. We have two young kids aged 4 and 6. We have a 9 year old small female long-haired chihuahua who is very skittish. Rascal has been good with our kids. Rascal is very energetic, curious, and playful. Our dog is very fearful of other animals and does not like to be chased or bothered by Rascal. We usually keep them separated because of this. We have not had issues with him urinating outside of the litter box or scratching furniture. Rascal is friendly and enjoys scratches and pets. Rascal will signal when he wants you to stop petting him and as long as you are respectful of his boundaries, he will not nip. I wouldn't consider Rascal to be "aggressive" towards other cats or dogs. I believe he can be too playful or annoying to other animals that do not have the same energy. I think a home without pets would be ideal for him.
Use the search tool below to browse adoptable Calico kittens and adults Calico in Liberty, Missouri.
There are animal shelters and rescues that focus specifically on finding great homes for Calico kittens in Liberty, Missouri. Browse these Calico rescues and shelters below.
We've got all the info you need on adopting and caring for a Calico kitten. Check out the links below for everything you ever wanted to know about Calico kittens and adults.