Adopt a Calico near you in Maitland, Florida
We don't see any Calicos available for adoption right now, but new adoptable pets are added every day. Try a different search below!
Or, how about these Calicos in cities near Maitland, Florida
These Calicos are available for adoption close to Maitland, Florida.
These pups are in Maitland, Florida too!
Below are our newest added Calicos available for adoption in Maitland, Florida. To see more adoptable Calicos in Maitland, Florida, use the search tool below to enter specific criteria!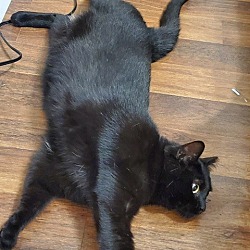 Size
(when grown) -
Details
Good with kids
,
Good with dogs
,
Good with cats
,
Needs experienced adopter
,
Spayed or Neutered
,
Story
Bruce is approx. 8 years old, super sweet cat that I have been fostering for about a year for a person who did not want him. She said she was not a "cat person". I took him so she would not drop him at a random shelter. I am now moving from a house into an apartment and can only have 2 small pets, of which I have a cat and a dog already. The behavioral issue with Bruce is he does have a tendency to mark about once or twice a month and I'm not sure why. He is neutered with a clipped ear and my attempts to have him stay outside causes him to be very scared and wants to come back in. Even though he does not like being outside I think if he got used to it he would be better about not marking inside. I will not abandon him outside at my house when I move this week and would love to find a living home for him with a place he could feel comfortable outside and not near a busy road hopefully.
Use the search tool below to browse adoptable Calico kittens and adults Calico in Maitland, Florida.
There are animal shelters and rescues that focus specifically on finding great homes for Calico kittens in Maitland, Florida. Browse these Calico rescues and shelters below.
We've got all the info you need on adopting and caring for a Calico kitten. Check out the links below for everything you ever wanted to know about Calico kittens and adults.