Adopt a Labradoodle near you in Maple Grove, Minnesota
We don't see any Labradoodles available for adoption right now, but new adoptable pets are added every day. Try a different search below!
Or, how about these Labradoodles in cities near Maple Grove, Minnesota
These Labradoodles are available for adoption close to Maple Grove, Minnesota.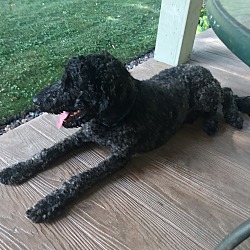 Size
(when grown) Large 61-100 lbs (28-45 kg)
Details
Good with kids
,
Not good with dogs
,
Good with cats
,
Spayed or Neutered
,
Story
Buddy is the sweetest and best behaved dog ever. He listens very well. He loves to be near his people and follows them everywhere. Buddy loves the water. He is still a puppy and has lots of energy. He would really benefit from obedience training or agility. Buddy will need daily exercise. This is an amazing dog.Please call 952 855-6495.
Use the search tool below to browse adoptable Labradoodle puppies and adults Labradoodle in Maple Grove, Minnesota.
There are animal shelters and rescues that focus specifically on finding great homes for Labradoodle puppies in Maple Grove, Minnesota. Browse these Labradoodle rescues and shelters below.
We've got all the info you need on adopting and caring for a Labradoodle puppy. Check out the links below for everything you ever wanted to know about Labradoodle puppies and adults.