Adopt a Calico near you in Lake Stevens, Washington
We don't see any Calicos available for adoption right now, but new adoptable pets are added every day. Try a different search below!
Or, how about these Calicos in cities near Lake Stevens, Washington
These Calicos are available for adoption close to Lake Stevens, Washington.
These pups are in Lake Stevens, Washington too!
Below are our newest added Calicos available for adoption in Lake Stevens, Washington. To see more adoptable Calicos in Lake Stevens, Washington, use the search tool below to enter specific criteria!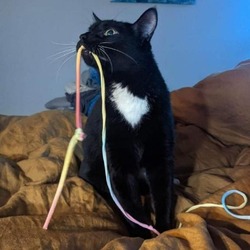 Size
(when grown) -
Details
Story
Meet Gus! Gus was surrendered to our vet clinic due to having diabetes and his owners were unable to manage him. Normally we don't take cats but how could we can no to this adorable face? Gus is a 9 year old Domestic Shorthair who is a recent diabetic and takes his insulin twice daily. He is a very good boy for his injections and hardly puts up any fight. His foster mom says that he can be shy at first in new spaces but loves to head butt and show you his tummy. Gus is on 2U of insulin twice daily and eats diabetic food which has really helped him stabilize. Moving forward he should only need annual vet visits unless something happens. Gus' foster calls him a little trash panda as he tries to get into all the cat treats constantly! He even told his foster sibling how he really felt when she got too close to his food (nobody was hurt physically but mentally Kona might have been a little upset). Gus is good with other cats and dogs as long as they understand cat boundaries. Gus is current on vaccines, neutered and otherwise healthy. If you are interested in adopting Gus, please fill out an application here: https://www.shelterluv.com/matchme/adopt/DDRS/Cat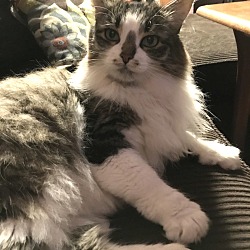 Size
(when grown) -
Details
Good with kids
,
Good with dogs
,
Not good with cats
,
Needs experienced adopter
,
Spayed or Neutered
,
Story
Beautiful, loving cat. I moved in with my son to help care for a grandchild. Their family has three cats. My cat does not get along with other cats. She is a one cat family. Dogs are ok. She is an indoor-outdoor cat and loves to hunt. She typically does not wander beyond personal yard. In her current circumstances, she has to remain inside in my bedroom full time. I want my cat to be happy and live freely.
Use the search tool below to browse adoptable Calico kittens and adults Calico in Lake Stevens, Washington.
There are animal shelters and rescues that focus specifically on finding great homes for Calico kittens in Lake Stevens, Washington. Browse these Calico rescues and shelters below.
We've got all the info you need on adopting and caring for a Calico kitten. Check out the links below for everything you ever wanted to know about Calico kittens and adults.