Adopt a Rottweiler near you in La Puente, California
We don't see any Rottweilers available for adoption right now, but new adoptable pets are added every day. Try a different search below!
Or, how about these Rottweilers in cities near La Puente, California
These Rottweilers are available for adoption close to La Puente, California.
These pups are in La Puente, California too!
Below are our newest added Rottweilers available for adoption in La Puente, California. To see more adoptable Rottweilers in La Puente, California, use the search tool below to enter specific criteria!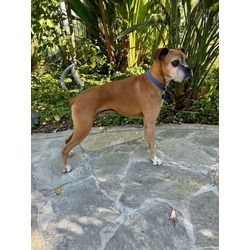 Size
(when grown) Med. 26-60 lbs (12-27 kg)
Details
Good with kids
,
Good with dogs
,
Not good with cats
,
Spayed or Neutered
,
Story
Peanut is a 10 year old Boxer that has been with us for 9 years. We adopted him from a local shelter when he was one. He is very friendly and playful and still has a lot of that Boxer energy in him. He does well with other dogs 1 on 1 but is a bit skittish when surrounded by a lot of dogs - we stay away from dog parks. Peanut was trained by a dog trainer so he knows many commands and is both house and leash trained. He is up to date with vaccines. He loves playing fetch and needs someone who can have the time to play and take him on walks.
Use the search tool below to browse adoptable Rottweiler puppies and adults Rottweiler in La Puente, California.
There are animal shelters and rescues that focus specifically on finding great homes for Rottweiler puppies in La Puente, California. Browse these Rottweiler rescues and shelters below.
We've got all the info you need on adopting and caring for a Rottweiler puppy. Check out the links below for everything you ever wanted to know about Rottweiler puppies and adults.