Adopt a Calico near you in Malibu, California
We don't see any Calicos available for adoption right now, but new adoptable pets are added every day. Try a different search below!
Or, how about these Calicos in cities near Malibu, California
These Calicos are available for adoption close to Malibu, California.
These pups are in Malibu, California too!
Below are our newest added Calicos available for adoption in Malibu, California. To see more adoptable Calicos in Malibu, California, use the search tool below to enter specific criteria!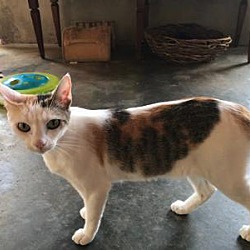 Sunshine
Domestic Shorthair
Size
(when grown) -
Details
Story
Sunshine is a young female cat who came to The Fauna Foundation pregnant. Before we could even say "how do you do?" she had four beautiful kittens. Sunshine is a beautiful calico with a huge amount of white. She has stunning eyes and spunky fun personality. She loves attention. Sunshine enjoys playing with toys and cat treats! Did we say Sunshine loves attention??? She will smack your hand if you stop petting her! Sunshine is a perfect cat, young friendly and playful! By the time she goes home with an adopter she'll be fully vaccinated, chipped and spayed. Bring some Sunshine into your life!!!
Use the search tool below to browse adoptable Calico kittens and adults Calico in Malibu, California.
There are animal shelters and rescues that focus specifically on finding great homes for Calico kittens in Malibu, California. Browse these Calico rescues and shelters below.
We've got all the info you need on adopting and caring for a Calico kitten. Check out the links below for everything you ever wanted to know about Calico kittens and adults.