Adopt a Jindo near you in Auburn, Washington
We don't see any Jindos available for adoption right now, but new adoptable pets are added every day. Try a different search below!
Or, how about these Jindos in cities near Auburn, Washington
These Jindos are available for adoption close to Auburn, Washington.
These pups are in Auburn, Washington too!
Below are our newest added Jindos available for adoption in Auburn, Washington. To see more adoptable Jindos in Auburn, Washington, use the search tool below to enter specific criteria!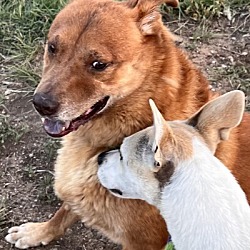 Heath/Rusty
Chow Chow Chow Chow
Size
(when grown) Large 61-100 lbs (28-45 kg)
Details
Good with dogs
,
Spayed or Neutered
,
Story
Rusty is one of the main favroites.  Rusty loves his humans and loves to jog around the yard and explore.  He also loves to go on walks and one the things he loves the most is to get his belly and back scratched.  Rusty is nutered,microchipped and current on all his vaccinations.  Rusty can also be transported to anywhere in the United States and Canada.  Plese inquire or fill out our online application to make rusty a family friend forever.   ##1501779##
Use the search tool below to browse adoptable Jindo puppies and adults Jindo in Auburn, Washington.
There are animal shelters and rescues that focus specifically on finding great homes for Jindo puppies in Auburn, Washington. Browse these Jindo rescues and shelters below.
We've got all the info you need on adopting and caring for a Jindo puppy. Check out the links below for everything you ever wanted to know about Jindo puppies and adults.